akistan displays some of Asia's most magnificent landscapes as it stretches from the Arabian Sea, its southern
border, to some of the world's most spectacular mountain ranges in the north. Pakistan is also home to sites that date back to word's earliest settlements rivaling those of ancient Egypt and Mesopotamia.

Location
Pakistan is located in South Asia and has a total area of 803,940 square kilometers (land area of 778,720 km²), approximately the combined land areas of France and the United Kingdom. Pakistan is bordered by India to its east, which has a 2,912 km (1,809 mile) border with Pakistan. To the west is Iran, with a 909 km (565 mile) border with Pakistan. To Pakistan's northwest lies Afghanistan, with a shared border of 2,430 km (1,510 miles). China is towards the northeast and has a 523 km (325 mile) border with Pakistan. To the south is the Arabian Sea, with 1,046 km (650 mile) of coastline. A panhandle of Afghanistan territory in the northwest, the Wakhan Corridor, separates Pakistan and Tajikistan. Jammu and Kashmir is a disputed territory located between Pakistan and India. Pakistan controls a portion of the territory as Azad (Free) Kashmir and the Northern Areas, while India controls a portion as the state of Jammu and Kashmir (Read More). The variety of landscape divides Pakistan into six major regions the North High Mountainous Region, the Western Low Mountainous Region, the Balochistan Plateau, the Pothohar Uplands, the Punjab and the Sindh Plains High Mountain Region.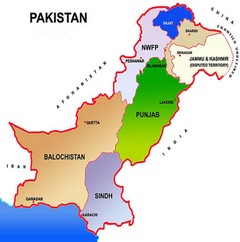 The land mass of Pakistan is an oblong stretch of land between the Arabian sea and Karakoram mountains, lying diagonally between 24°N and 37°N latitudes and 61°E and 75°E longitudes, and covering an area of 87.98 million hectares. Topographically, Pakistan has a continuous massive mountainous tract in the north, the west and south-west and a large fertile plain, the Indus plain. The northern mountain system, comprising the Karakoram, the great Himalayas, and the Hindu-Kush, has enormous mass of snow and glaciers and 100 peaks of over 5,400 m. in elevation. K-2 (the second highest peak in the world). The mountain system occupies one third of this part of the country. The western mountain ranges, not so high as in the north, comprise the Sufed Koh and the Sulaiman while the south-western ranges forming a high, dry and cold Balochistan plateau. Characteristically, the mountain slopes are steep, even precipitous, making fragile watershed areas and associated forest vegetation extremely important from hydrological point of view. The valleys are narrow. The mountains are continuously undergoing natural process of erosion. The nature of climate with high intensity rainfall in summer and of soil in the northern regions render these mountains prone to landslides.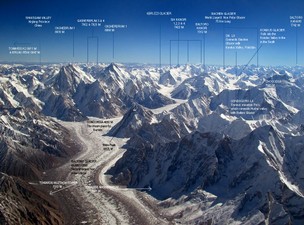 A great variety of parent rock types occur in Pakistan, which exert considerable influence on the properties of the soil. The rocks found in Pakistan can be classified into three major groups, viz. the igneous rocks, the sedimentary rocks and the metamorphic rocks. In the Himalayan regions, the common rock types are metamorphic which are gneisses, schist, slates and phyllites with some quartzite and marble. In the northern part of Indus plain, between Sargodha and Shahkot small outcrops of phyllites and quartzites occur. Granite, syenite, diorite, gabbro, dolerite and peridotite are more common types of igneous rocks, which occur in Dir, Swat, Chitral, Gilgit, Zhob, Chagai, Las Bela and Nagarpark.

Official Name Islamic Republic of Pakistan
Father of the Nation Quaid-i-Azam Muhammad Ali Jinnah (1876-1948)
National Poet Allama Muhammad Iqbal (1877-1938)

Capital Islamabad (See http://www.cda.gov.pk)

Area Total 803,940 Sq. km.
Punjab 205,344 Sq. km.
Sindh 140,914 Sq. km.
North West Frontier Province 74,521 Sq. km.
Balochistan 347,190 Sq. km.
Federally Administered Tribal Areas 27,220 Sq. km.
Islamabad (Capital) 906 Sq. km.

Population 165 million (estimated)-132 million (1998 census)

Pakistan is divided into four provinces viz., North West Frontier Province (NWFP), Punjab, Sindh and Balochistan. The tribal belt adjoining NWFP is managed by the Federal Government and is named FATA i.e., Federally Administered Tribal Areas. Azad Kashmir and Northern Areas have their own respective political and administrative machinery, yet certain of their subjects are taken care of by the Federal Government through the Ministry of Kashmir Affairs and Northern Areas. Provinces of Pakistan are further divided into Districts

Pakistan National Flag
Dark green with a white vertical bar, a white crescent and a five-pointed star in the middle. The Flag symbolizes Pakistan's profound commitment to Islam, the Islamic world and the rights of religious minorities.
National Anthem Approved in August, 1954 Verses Composed by: Abdul Asar Hafeez Jullundhri Tune Composed by: Ahmed G. Chagla Duration: 80 seconds

State Emblem The State Emblem consists of:
1. The crescent and star which are symbols of Islam
2. The shield in the centre shows four major crops
3. Wreath surrounding the shield represents cultural heritage and
4. Scroll contains Quaid's motto: Faith, Unity, Discipline (For more details click here)

Pakistan's Official Map Drawn by Mian Mahmood Alam Suhrawardy (1920-1999)

National Flower Jasmine.
National Tree Deodar (Cedrus Deodara).
National Animal Markhor.
National Bird Chakor (Red-legged partridge)
Flora Pine, Oak, Poplar, Deodar, Maple, Mulberry
Fauna The Pheasant, Leopard, Deer, Ibex, Chinkara, Black buck, Neelgai, Markhor, Marco-Polo sheep, Green turtles, River & Sea fish, Crocodile, Waterfowls
Popular games Cricket, Hockey, Football, Squash.

For more information.
Pakistan (Wikipedia)