"The story of Pakistan, its struggle and its achievement,

is the story of great human ideals, struggling to survive in the face of odds and difficulties..."

Quaid-e-Azam Muhammad Ali Jinnah (Chittagong, 26th March, 1948)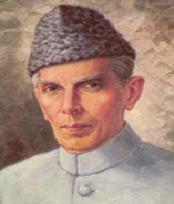 Quid-e-Azam Mohammad Ali Jinnah (1876–1948)

Politician and the founder of Pakistan
Quaid-e-Azam Mohammad Ali Jinnah was born at Karachi on December 25, 1876. He entered politics in India in 1905 and by 1917 his charisma and diplomacy had made him a national leader and the most visible supporter of Hindu-Muslim unity. His strong belief in gradual and peaceful change was in contrast to the civil disobedience strategies of Mohandas Gandhi, he demanded a separate nation in Pakistan and by 1947 he managed to get it from the British and India. Through civil wars, a rotten economy and millions of displaced refugees, Quaid-e-Azam Mohammad Ali Jinnah ("the great leader") pretty much built a country from scratch. Jinnah, advocating the Two-Nation Theory, embraced the goal of creating a separate state for Muslims as per the Lahore Resolution. The League won most reserved Muslim seats in the elections of 1946. After the British and Congress backed out of the Cabinet Mission Plan Jinnah called for a Direct Action Day to achieve the formation of Pakistan. As the Indian National Congress and Muslim League failed to reach a power sharing formula for united India, it prompted both the parties and the British to agree to independence of Pakistan and India. As the first Governor-General of Pakistan, Jinnah led efforts to rehabilitate millions of refugees, and to frame national policies on foreign affairs, security and economic development. He died a year after Pakistan's formation in September 1948.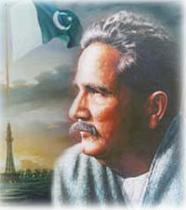 Sir Alama Mohammad Iqbal (1877–1938)

Poet, philosopher and political leader
Allama Iqbal was born at Silkot on November 9, 1877 and studied at Government College, Lahore, Cambridge, and the Univ. of Munich, and then he taught philosophy at Government College and practiced law. He was elected (1927) to the Punjab provincial legislature and served (1930) as president of the Muslim League. A staunch advocate of Indian nationalism, he became a supporter of an independent homeland for India's Muslims and he is regarded as the spiritual founder of Pakistan. Iqbal was the foremost Muslim thinker of his period, and in his many volumes of poetry (written in Urdu and Persian) and essays, he urged a regeneration of Islam through the love of "ALLAH(SWT)" God and the active development of the self. He was a firm believer in freedom and the creative force that freedom can exert on men. He was knighted in 1922. His works include The Secrets of the Self (1915, tr. 1940), and Javid-nama (1934, tr. 1966). Allama Iqbal was a strong proponent of the political and spiritual revival of Islamic civilisation across the world, but specifically in South Asia; a series of famous lectures he delivered to this effect were published as The Reconstruction of Religious Thought in Islam. One of the most prominent leaders of the All India Muslim League, Iqbal encouraged the creation of a "state in northwestern India for Muslims" in his 1930 presidential address. Iqbal encouraged and worked closely with Muhammad Ali Jinnah, and he is known as Muffakir-e-Pakistan ("The Thinker of Pakistan"), Shair-e-Mashriq ("The Poet of the East"), and Hakeem-ul-Ummat ("The Sage of Ummah"). He is officially recognized as the national poet of Pakistan. The anniversary of his birth is on November 9, and is a national holiday in Pakistan.


More detail:
Allama Iqbal
Allama Iqbal Cyber Library
Street Named in Iqbal's honour in Heidelberg, Germany.
Mohammamd Iqbal (Wikipedia)
Dr. Iqbal Society of North America
Allama Iqbal Rare Blog & Images
Allama Iqbal Urdu Cyber Library Network
Iqbal Ka Pakistan Videos Urdu



Few individuals significantly alter the course of history. Fewer still modify the map of the world. Hardly anyone can be credited with creating a nation-state. Mohammad Ali Jinnah did all three.'

Stanley Wolpert
Professor of history
University of California, Los Angeles
& author of Jinnah of Pakistan and Nehru: A Tryst with Destiny.





To me he (Iqbal) was a personal friend, philosopher and guide and as such the main source of my inspiration and spiritual support.

Mohammad Ali Jinnah April 21, 1938




Pakistan proud of her youth, particulalrly the students, who are nation builders of tomorrow. They must fully eqiup themselves by discipline , education, and training for arduous task lying ahead of them.